November 30 @ 7:15 am

 – 

11:45 am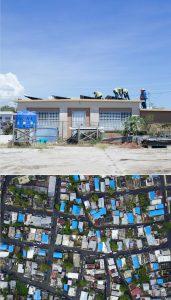 Adapting utilities to be resilient to climate impacts, from extreme storm events to heatwaves, poses significant challenges and opportunities for providers and communities. Hurricane Maria devastated Puerto Rico in 2017 and resulted in the longest blackout in U.S. History. The Forum welcomes Malu Blázquez Arsuaga, the Executive Director of the Resilient Puerto Rico Advisory Commission, and speakers from Resilient Power Puerto Rico to discuss lessons learned from Hurricane Maria and rebuilding resilient utility infrastructure. We will then turn our focus to local climate impacts and hear what steps are being taken for regional utility resilience. Local utility providers and communities will discuss on-going projects and challenges for climate adaptation in New England.
View the Attendee List
View the Final Agenda
Forum Co-Chairs
Julie Eaton, Lead Resiliency Engineer Weston & Sampson Alex Papali, Green Justice Organizer Clean Water Action
Keynote Speakers
ResilientSEE-PR: A multidisciplinary lens for rebuilding communities in Puerto Rico Yanel de Angel, Associate Principal Perkins+Will On the Path to Creating a Stronger & More Resilient Puerto Rico After Hurricane María Click to View the Presentation – Blazquez Arsuaga – November 30 2018 Malu Blázquez Arsuaga, Executive Director Resilient Puerto Rico Advisory Commission Transforming an Energy Grid One Scale at a Time Click to View the Presentation – Marvel – November 30 2018 Jonathan J. Marvel, FAIA, President Resilient Power Puerto Rico Open Discussion Moderator Alex Papali, Forum Co-Chair Green Justice Organizer, Clean Water Action
Rapid Fire Panel Presentations
Panel Introduction & Overview of Utility Vulnerability in New England Julie Eaton, Forum Co-Chair Lead Resiliency Engineer, Weston & Sampson Utility Summer Preparation Click to View the Presentation – Woolard – November 30 2018 Sam Woolard, Director – Distributing Engineering Eversource Energy Utility Climate Adaptation Click to View the Presentation – Anundson – November 30 2018 G. Paul Anundson, P.E., Principal Engineer Electric Standards, National Grid Energy Democracy and Environmental Justice Click to View the Presentation – Belen Power – November 30 2018 María Belén Power, Associate Executive Director GreenRoots Public Health Response to Extreme Heat Events Click to View the Presentation – Kokaram – November 30 2018 Stacey Kokaram, Director, Office of Public Health Preparedness Boston Public Health Commission Open Discussion Moderator David W. Cash, Ph.D., Dean, John W. McCormack Graduate School of Policy and Global Studies University of Massachusetts Boston
Registration Information
Registration and Continental Breakfast: 7:15 a.m. – 8:00 a.m. Forum: 8:00 a.m. – 11:45 a.m.
Online registration has closed.
EBC Member: $35 EBC Membership is corporate – all staff from our member companies can register as an EBC Member. Not sure if you're a member? Visit our online Member Directory. Non-members: $45 Government/Nonprofit: $15 This rate is available for those employed by Government, Municipal, or Nonprofit organizations. University of Massachusetts – If you are affiliated with the University of Massachusetts, please get in touch with Rebecca Herst, Director of the Sustainable Solutions Lab at UMass Boston, for registration information. All others affiliated with universities or colleges – please use the above Nonprofit rate for registration. Fine Print: Cancellations must be received by 5:00 p.m. on Friday, November 23 for a refund. No-shows will be charged.